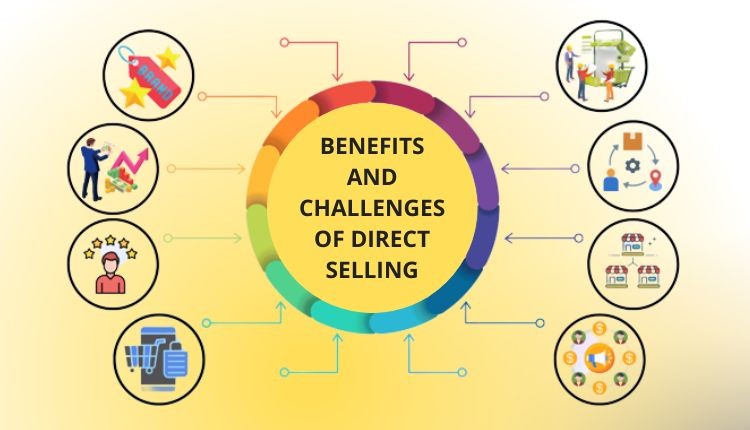 Benefits and challenges of direct selling
One of the uprising business models in today's competitive era is direct selling. This prototype has gained popularity in recent decades. Day to day, more entrepreneurs and companies reach out to their prospective customers through a direct selling approach. Direct selling involves selling products or services directly to consumers via a network of sales representatives. These representatives could be independent or the company's employed personnel. This article shed light on some benefits and challenges of the direct selling approach for ventures.
Benefits: 
Lower start-up cost:
With this method, an entrepreneur has the advantage to start a new business at a relatively lower cost. The cost of a physical storefront, inventory display, and other overhead costs are all forgone. Entrepreneurs have a competitive edge to start their businesses with minimal investment and can grow business with an increase in customer base with a proportioned increase in sales representatives.
Flexible work arrangements:
Another advantage of choosing direct selling is that it allows the seller to enjoy flexible work hours, an individual could choose between working full-time or part-time, moreover, reps also got the advantage to work from home or from any other place where internet connectivity is ensured. This pliable schedule makes it more attractive to entrepreneurs who are busy with other commitments.
Personalized customer experience:
Sales representatives build strong connection relationships with the customers, direct selling makes it more convenient for the reps to ensure customization when dealing with their prospective clients. This personalization brings loyalty among the clients and inclines the sales graph. 
Potential for high earnings:
Direct selling also offers the potential for high earnings. Reps are paid on a commissioned basis so it's an incentive for them to sell more to earn more profits. As the business increases the potential to earn may also increase.
Challenges:
Recruitment and retention of sales representatives
It is one of the most difficult tasks to recruit and retain sales reps, entrepreneurs continuously keep on motivating the sales representative, and to cope with this challenge entrepreneurs give extra incentive to the sales reps.
Reputation concerns:
For a long time in history some companies were indulged in unethical and illegal practices which arise a challenge for entrepreneurs to build trust and reliability amongst the customers so that they would not be cheated or sold forfeited products. For solving this issue the entrepreneur should take into account the element of transparency and keep the ethical perspective high when dealing with clients.
Limited control:
Businesses have limited control over their brand and marketing, sales reps sometimes fail to deliver the brand message correctly, or sometimes their negative behavior with the customer reflects the poor brand image. Moreover, direct selling also has limited geographic reach as an entrepreneur can only reach out to customers within their local area of the network.
Conclusion:
Direct selling is one of the newest techniques and it is very widely accepted in recent years, there are many benefits of using the direct selling method firstly it will decrease many overhead cost and storefront costs, moreover it also gives flexibility in work time, and personalization when dealing with customers which increase the reliability and built a trust relationship with the customers. On the other side, there are also some challenges that an entrepreneur has to deal with which are recruitment, hiring, and retention. Reputations concern and limited control over the brand image and marketing message.